THE NEW LOTUS HISTORY BOOK from Graham Capel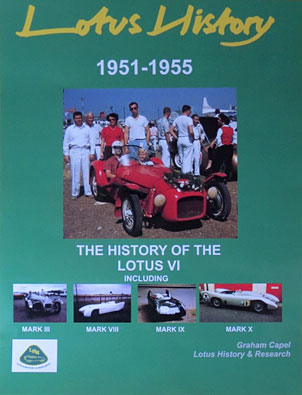 After five years of research and writing, Graham Capel's History of the Lotus VI will be published by Christmas. In fact, it is far more than the story of Colin Chapman's first 'production' Lotus of 1953. The book starts with the fabulously successful Austin 7 powered Lotus Mark III of 1951 and the innovative engineering of Colin Chapman and Michael & Nigel Allen when they formed Lotus Engineering Co. The Lotus Mark VI was the first space-frame chassis that they produced and was supposedly designed on a tablecloth in a transport café! By 1953 Mile Costin had joined Colin Chapman and the Lotus Mark VI began production as a customer kit car. After the first 25 had been sold, Colin Chapman turned his mind to the first Lotus aerodynamic sports racing car - the Lotus Mark VIII of 1954, and Team Lotus was formed. Meanwhile, production of the Lotus Mark VI continued and the Lotus workforce expanded into the sheds behind The Railway Hotel in Hornsey.
Another 40+ Lotus VIs were sold in 1954 and Colin Chapman then turned his ever developing ambitions to yet another Lotus model - the Mark IX for 1955 and international racing at Sebring and Le Mans. 1955 also saw the Lotus-Bristol developed by customer Mike Anthony and built by Lotus which became the Lotus Mark X as an afterthought! By the end of 1955 when production of the Lotus VI ceased, some 110 Mark VIs had been sold along with 7 Mark VIIIs, 24/5 Mark IXs and 5 Mark Xs. A total of some 150 cars in the three years since 1953 - and with a workforce of less than 10. Quite an achievement, but this was Colin Chapman and Lotus Engineering.
Graham tells the story of this early development of Lotus and the people involved with Colin Chapman, and the impossible stress which Colin drove himself and his associates to in order to achieve his ambitions. All of the cars are detailed by chassis number and/or driver as far as possible, and with the invaluable assistance of Lotus VI Registrar Charles Helps, as complete a picture and historical record has hopefully been attained based on present knowledge. Hopefully this book will lead to further information and 'discoveries' of unknown Lotus cars from this early period in Lotus history.
This hardback book of 225 pages is full of black and white period photographs, and is available at £35 plus £4 UK post and packing = £39 from:

Historic Lotus Books,
P.O. Box 7,
Horley,
Surrey,
RH6 7AA,
U.K.

or by E-mail and PayPal payment to graham AT lotushistory DOT co DOT uk.